The recipe says honey, does it work?
The answer is definitely: YES. But it is important to remember the following:

- When you substitute sugar with honey you have to remember that 20 % of
the weight of honey is water. Therefore you have to make a slight
adjustment of the quantity of liquid.

- Honey preserves pastries and bread longer.
It also strengthens the juiciness longer by tying water.

- You will find taste sensations when honey is substitutes for sugar.

- It is important to feel one's way




Filet of pork

(3-5 persons)

If you prepare and marinate one day in advance you have done most of the job and only

grilling the meat and preparing the sauce remains to be done.
400-500 g filet of pork
½ dl sesame seed
Marinade:
2 tabelspoons (tbs) of honey
2 tablesoons of chinese soy
2 cloves of garlic
Sauce:
¾ dl Chinese soy
1 tablespoon white wine-vinegar
2 tablespoons honey
2 tablespoons brown sugar
2 cloves of garlic
3 tablespoons of peanut butter
1 teaspoon of oyster sauce
Additions:
Preparation:
Mix honey and soy for the marinade and press the garlic into it. Add the filet of pork
and keep it in the refrigerator over night. Turn the filet e few times. Mix all sauce
ingredients in a pan and warm up on low heat while stirring. Let it cool down.
Roast the sesame seeds in a fire pan at 275° for 5 minutes. Pay close attention
so they do not burn.Fry or grill the meat. Cut it and serve it immediately garnish
with the sesame seeds. Serve together with the sauce and freshly boiled egg
noodles. An added fresh
salad will be delicious.
Duck Breasts with tasty sauce
(3-5 persons)
Marinade:
½ dl olive oil
2 tablespoons white wine-vinegar
½ teaspoon thyme
3 tablespoons honey
2 bay leaf
1 carrot
1 teaspoon salt
Sauce:
2 tablespoons honey
1 dl meat broth
1 – 2 cloves of garlic
1 tablespoon thyme
½ dl concentrated orange juice
1½ tablespoons wheat-flour
1 dl dry white wine
2 dl cream
1-2 pinches of black pepper
Preparation:
Mix all marinade ingredients. Peel the carrot and slice it. The put the slices
in the duck breasts. Allow the breast in the marinade for at least 3 hours,
or rather over night. Put the duck breasts with the marinade in an ovenproof
dish and braise at 225° for approximately 20 minutes. Test with a stick,
the meat juice shall be clear and not red. Mix all sauce ingredients - except
the wine, cream and black pepper - in a pan. Come to the boil while stirring.
Add wine, cream, and flavor with black pepper. Serve together with
potatoes or rice and with lightly boiled vegetables.
Thin spareribs
(3-5 portions)
3 tablespoons honey
2 tablespoons lemon juice
1/2 tablespoons oil
1 teaspoon salt
2 pinches of black pepper
1 pinch of ginger
1,2 kg thin spareribs
Preparation:
Mix honey with lemon juice, oil salt black pepper and ginger. Brush the
mixture on both sides of the spareribs. Put the grating fairly high in the
oven. Put the oven on 250° and grill the ribs for approximately 25 minutes.
Turn the ribs at half time. Very tasty with baked potatoes or bread and salad.
Glazed root vegetables
( 3-5 persons)
1 small swede
1 parsnip
3 firm potatoes
2 dl water
1 teaspoon salt
1 yellow onion
1 tablespoon butter
3 tablespoons honey
possible 2 tablespoons lemon juice
2 pinches of sambal oelek
Preparation:
Peel the root vegetables and cut them into cubes. Boil them "al dente" in
salted water, preferably each in order to get the right tenderness. Pick them
up with a perforated ladle and let the water drain off. Peel the onion and
chop it; fry the bits tender and glansig in butter. Add the root vegetables.
Mix honey, lemon juice and possibly sambal oelek. Add the mixture
carefully and heat on low heating.
African pot of chick-peas
( 3-4 persons)
300 g boiled chick-peas
50 g cashew nuts
2 tins of tomatoes
3 tablespoons peanut butter
2 dl vegetable broth
1 copped yellow onion
curry
oregano
chili pepper
salt
black pepper
honey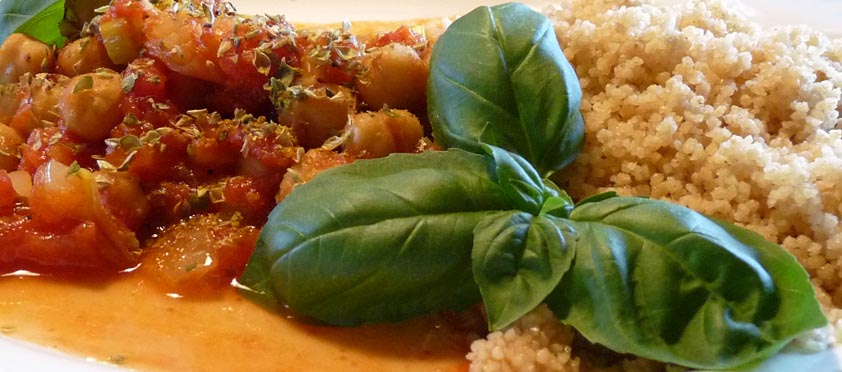 Preparation:
Fry the onion in a saucepan, add tomatoes and chick-peas. Bring it to boil
together with the broth and peanut butter, flavor with the spices.
Boil it for approximately 10 minutes, add the nuts when one minute
remains. Serve with cous-cous.
Marinated tofu
(1 person)
300 g tofu
1,5 dl soy sauce
0,5 dl water
1 tablespoon honey
juice from 1 lemon
2 cloves of garlic
breadcrumbs
Preparations:
Slice the tofu in ½ cm thick slices and putt hem in a bowl. Mix soy, honey, lemon and
squeezed garlic and pour it on the slices tofu. Let it draw for a couple of hours
or over night. Turn the marinated torfu in breadcrumbs and fry it on both sides
until golden-brown. Enjoy you'reyour favorite mustard. Really tasty! Could be
served on bread with mustard and salad.
Gratin of rainbow trout
(3-5 persons)
700 gr peeled potato
2 onions
200 gr cucumber salad
500 gr fresh shredded rainbow trout
3 dl cream
salt, grinded white pepper, dill
3 tablespoons honey
Preparation:
Shred the potato, slice the onion. Put potato, onion, cucumer sallad and
trout in rows in a ovenproof mold. Mix the other ingredients and pour
into the mould. Bake for 1 hour at 200ºC.
Pot of Shrimps
(3-5 persons)
1-2 yellow onions
3 apples
1/2 dl wheat-fower
40 gr butter
curry
2 dl cream
2 dl water
1 cube of fish broth
1 dl light milk
garlic, salt, cayenne pepper
400 gr pealed shrimps
3 tablespoons honey
Preparation:
Chop the onion, cut the apples into cubes, heat in butter and add curry.
Then add the flower and part of the fluid and let it dab during 10 minutes.
Add the rest of the fluid and the seasoning. Add the shrimps, heat and
flavor with the honey. Serve with rice and white bread.
Shrimp mixture
(1-2 persons)
250 g shrimps with skin
2 tablespoons chives, chopped
½ tablespoons ginger, newly grated, or ½ tsk of grinded ginger
1 pinch of salt
½ dl créme fraiche
2 large leaves of lettuce
1 tablespoon of honey
chives
Preparation:
Peel and chop the shrimps. Mix the chopped shrimps with chives, ginger, honey
and crème fraiche. Distribute the shrimp mixture on the lettuce leaves and
garnish with chives. Tasty with toasted bread.
Salad dressing no 1 with honey
1 tablespoon oil
1 ½ tablespoon honey
2 tablespoons vinegar of white wine
l pinch of freshly grinded black pepper
2 pinch of salt
1 teaspoon mustard, preferably honey mustard
Preparation
:
Beat all ingredients in a bowl into a fluffy dressing.
Salad dressing no 2 with honey
finely grated peel of 1 lemon
1 dl sunflower oil or something similar
2 tablespoons squeezed lemon
2 tablespoons light honey
2 tablespoons heated water
1/2 tsk salt
1–2 pinch of newly grinded white pepper
Preparation:
Mix the grated lemon with oil and lemon juice. Dissolve the honey in heated
water, flavor with salt and pepper. Mix all ingredients. Could be preserved
in indoor temperature.
Salad dressing no 3 with honey
2 heads iceberg lettuce
4 heads of other sorts of lettuce (e.g. mache salad, spinach or ruccola salad)
3 dl olive oil
1 dl vinegar
6 tablespoons French Dijon mustard
3 tablespoons honey
1,5 teaspoon salt and black pepper
Preparation:
Tear the salad heads and mix. Keep cold. Serve with olive oil mixed with
vinegar, French Dijon mustard, honey, salt and black pepper.
Salad sauce with herbs
4 dl rape oil
1 tablespoons dried dragoon
1 teaspoon thyme
1 teaspoon cicely
3 tablespoons honey mustard
2 dl honey
1 dl white wine vinegar
1 teaspoon salt
Preparation:
Mix all ingredients, but add the oil at the end; stir well.
Fish sauce
(3-4 persons)
1,5 tablespoon wheat-flour
2 dl cooking cream
2 dl water
2 tablespoons honey
1,5 tablespoon Touch of Taste Lobster sauce??
0,5 pinches of dried rosemary
2 pinches of dried thyme
3 pinches of dried marjoram
0,5 pinches of salt
1/3 pinches of grinded white pepper
0,5 pinches of granulated sugar
Preparation:
Beat the wheat-flour in the cooking cream. Add water and lobster sauce.
Bring the sauce to boil while stirring. Add the other ingredients and let simmer
for approximately 5 minutes. Stir now and again. Serve with fried fish, e.g.
cod, plaice or salmon, or grilled fish, e.g. trout, halibut, salmon or mackerel.
Vegetarian sauce
(2-3 persons)
2 dl boiled mung beans (preferably a bit pulpy)
2 tablespoons water
2 tablespoons honey
2½ tablespoons tomato paste
1½-2 tablespoons Pad Thai sauce (bottle)
1 teaspoon herbamare herb broth
Preparation:
Heat the mung beans carefully (you may need extra water. Add and stir the
flavouring, heat and stir again. Quick and tasty with root-vegatable fräsen.
Meat sauce
(3-4 persons)
4 tablespoons rape-oil
1 tablespoon sojy
2 pressed cloves of garlic
1 tablespoon lemon juice
1 tablespoon honey
1 teaspoon dried rosemary
1 teaspoon salt
1/2 teaspoon coarse-grounded black pepper
50-75 g blue cheese
3 dl sour cream
25 g chopped walnuts
Preparation:
Mash the blue cheese with a fork and mix with sour cream, walnuts and honey.
Keep it cool during at least an hour. The mix with remaining ingredients.
Eva's ice cream
sprinkle salted peanuts on vanilla ice cream.
pour liquid honey on the ice cream.
Ready to serve!
Apples filled with honey
(3-5 persons)
4 big apples
4 tablespoon raisins
4 tablespoons hazelnuts
1 tablespoon lemon juice
2 ½ teaspoons honey, readily liquid honey
vanilla ice cream or vanilla custard
Preparation:
Rinse and core the apples. Cut a lid of the apples and put them in an
oven-proof dish. Chop the hazelnuts and mix with raisins, lemon juice and
honey. Fill the apples with the mixture, putthe lid on, and fry them in the
middle of the oven, 225° for approximately 15 minutes or until the apples
have soften. Serve immediately, together with ice cream or vanilla custard.
Chocolate parfait with orange juice
(4-6 persons)
150 g dark cooking chocolate
4 dl whipped creame
4 yolks of egg
2 tablespoons sugar
1 tablespoon honey, readily from orange flowers
4 dl freshly pressed orange juice or apple juice
2 tablespoons honey
1 tablespoon arrowroot flour, or 1 tablespoon orange liqueur
For topping:
1 orange cut into pieces without skin
Preparation:
Melt 100 g the cooking chocolate in water-bath. Chop the rest of the
chocolate. Whip the cream in one bowl and the yolks and sugar porously
in another.Mix the melted chocolate and honey into the yolk mixture,
add the cream and the chopped chocolate. Place it in the freezer – readily
over night. For the sauce; heat the orange juice and the honey. Stir the
arrowroot flour in some water and let it just boil. Let the sauce cool and,
according to taste, flavor with liqueur. Garnish the chocolate parfait with
the orange pieces before serving.
Cake of pancakes
(4-6 persons)
2 dl honey
1 dl raisins
peel and juice from 1 lemon
½ teaspoon grinded ginger
1 teaspoon cinnamon
Pancake batter:
4 eggs
4 dl wheat-four
4 dl milk
3 – 4 dl water
½ teaspoon salt
For decoration:
Preparation:
Mix honey, raisins, peel and juice from lemon, ginger and cinnamon in a pan.
Boil for 5 minutes. Mix pancake batter ingredients. Fry thin pancakes. Put them in
layers with filling between each or each other cake. Spread filling on the uppermost
cake and sprinkle the nuts thereon. Serve with whipped cream till.
Berry pirouge
3 dl wheat-flour
2-3 tablespoons honey
100 gr butter or marge
1 tablespoon baking-powder
put together on the top
separate approximately 1 dl of the dough.
Preparation:
Add 1 egg for the rest of the dough, don't or mix too much.
The dough is spread in a greased and bread sprinkled mould. Add 3 tbs
honey and 2 dl berries according to taste. Put the rest of the dough
on top and bake in 225 º for 30 minutes.
Grandma's caramel
5 dl cream
1 dl honey
4 dl sugar
1 tablespoon butter
Preparation:
Mix the cream, honey and sugar in a pan and boil until the mixture hardens
30-45 minutes depending on heat and size of the pan. Add butter and pour
the mixture on a greased baking-plate. Take a wide knife and bring the
mixture to a thick plate and let it cool. Cut the plate into suitable pieces.
Almond and honey pie
(6-8 persons)
Dough:
2 ¼ dl wheat flour
¾ dl sugar
¾ teaspoon baking powder
60 g butter
1 small egg
½ tablespoons water
Filling:
1 dl sugar
75 gr butter
½ dl honey
2 tablespoons whipped cream
150 gr almond flakes
Preparation:
The dough: Mix the flour, sugar and baking powder, readily in a food-processor.
Add egg and water and sliced butter. Mix together into a dough. Store the
dough in a cold place, at least from 30 minutes. Roll or press the dough in
a pie dish and pre-bake in the middle of the oven, 200° for approximately
10 minutes. The filling: Mix sugar, butter, honey and whipped cream in a pan.
Boil it together on faint warmth. Stir the almond flakes and spread the mixture
on the pie bottom. Bake in the middle of the oven during 20-30 minutes or
until the pie is golden brown. Let it cool.
Puh's Honey cake
350 g honey
2 dl brown sugar
80 gr butter
2 eggs
grated lemon peel
1 teaspoon cinnamon
1 teaspoon ginger
1 dl raisins
1/2 teaspoon ammonium carbonate
5 1/2 dl wheat-flour
1 dl peeled almond



Preparation:
Melt 350 g honey in a water-bath and cool it to the same temperature as in
the beehive. Mix honey, sugar and butter. Add egg, spices, lemon peel,
raisins ammonium carbonate and wheat-flour. Grease a mould and powder
it with bread crumbs. Bake in oven for approximately 50 min in 175°.
Test with a stick, whichshould come out dry.
Östgöta cookies
Approximately 50 pieces
4 dl wheat flour
150 gr butter or marge
2 tablespoons whipped cream
2 tablespoons cold water
For brushing
:
3 tablespoons melted honey
For topping:
chocolate sprinkles or grinded lemon peel
Preparation:
Heap wheat-flour and make a dent where you put the cocking fat. Chop the flour
and fat together with a knife until it gets grainy. Add cream and water and work it
together into a dough. Store it in the fridge, preferably over night.Roll out the
dough 1 cm thick and carve out round cookies. Bake in 225° for a few minutes
until they get the right color. Brush on melted honey and sprinkle a thin layer of
sprinkles or grinded lemon peel. Let the cookies cool on the baking-plate.
Honey drink
1/2-1 tablespoon liquid honey (you can also heat solid honey liquid, but not more than 45º C)
5 cl white wine
Preparation:
Stir the honey into the wine. Add soda or Vichy water.
Honey drink
8 liter water
500 gr honey
500 gr brown sugar
3 st lemons
(2 stems of rhubarb)
10 gr yeast
raisins
Preparation:
Peel the lemons and slice them. Take away the white part under the peel (cut the rhubarb
into pieces). Pour boiled water on brown sugar, lemons (and rhubarb). When cooled down
to 35º, add honey and yeast. Mix until the honey has melted, then let it raise for a day and night.
Pout it into bottles filled with some raisins. Store it in a cool place for four days and nights.