Markets/Fairs, push
here
(jump will be made down this side)

Summer events at Trogsta Honung

During the summer a lot of things happend at Trogsta Honung. The Farmshop is open all year around.

Busses and groups are very welcome for guidings and showings during the summer.
Please phone us before coming to be sure we are at home.


where Trogsta Honung is taking part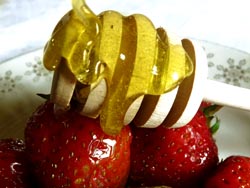 Floating honey with strawberries.......
Bondens Egen Marknad i

Uppsala,

fridays from. 23 august until the end of october
Time: 12-18
Bondens Egen Matfestival in Botaniska Parken, Uppsala 31 august and 1 september
Bondens Egen Marknad in

Gävle,

saterdays from 7 september until 12 october
Time: 10-14
Bondens Egen Marknad in

Sundsvall,

17 august, 14, 21, 28 september and 5 oktober
Time: 10-15
Market in

Glada Hudik,

6-7-8 september (time: 16-24, 11-24, 11-18)



For planing we wish you to make an announce: john@trogstahonung.se or mobile 0702503282.

Map to find us, link:

www.trogstahonung.se/th/sv-kontakt.html



Snabb bekräftelse (e-post, fax)Snabb bekräftelse (e-post, fax)Snabb bekräftelse (e-post, fax)Snabb bekräftelse (e-post, fax)